Dive to
a new dimension !
The underwater world awaits.

The SEABOB represents pure excitement, enhancing your snorkeling, freediving or scuba diving experience. Whether longer or shorter journeys, dynamic or leisurely adventures, you can explore an unfamiliar world with a whole new level of intensity !
Optional weights enable you to optimally adjust the buoyancy of the SEABOB, whilst one-handed driving allows you to operate your diving equipment and take safety stops with ease. Experience a whole new dimension of diving.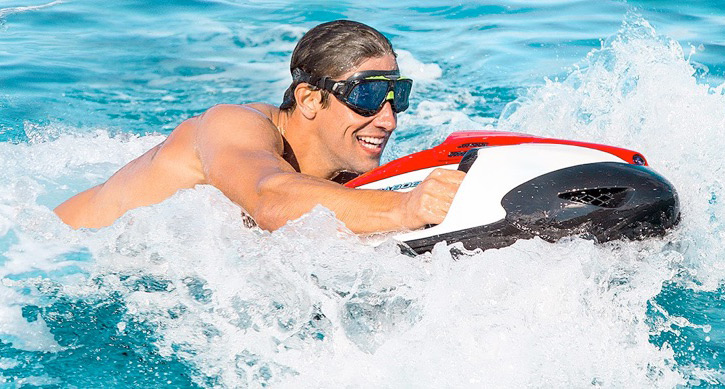 Unlimited riding pleasure.
Leisurely gliding. Sporty driving in the water. Safe diving under water. All this is possible with a SEABOB. Now you can actually move through the water like a fish. Freely, both on the surface and at depth.
At the same time, the SEABOB is completely environmentally friendly when in its element. It zooms powerfully and almost silently through the water. Man and machine in perfect harmony.


Intense and irrepressible.
A SEABOB offers all-round high-performance. Its hydrodynamic shape provides for an astounding degree of agility in the water. Steering and diving could not be easier – all it requires is for the pilot to shift his bodyweight.
Whether you are cruising, zipping through the water or diving. The SEABOB will glide along powerfully with you aboard. Feel the awe-inspiring manoeuvrability and the new-found desire for water which will never relinquish its hold on you again.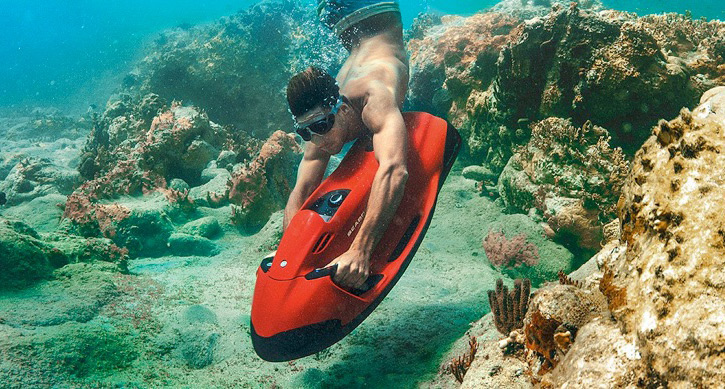 Experience a unique under water agility.
The dynamism of the SEABOB jet develops its special appeal under the water. The watercraft can be steered down into the depths simply by applying light pressure. Man and machine in unison, darting around nimbly.
Impressive diving depths of up to 40 meters can be programmed to suit individual requirements via the on-board electronics. A safety cut-off feature reliably ensures that the selected diving depth is not exceeded. Dive into the fascinating underwater world.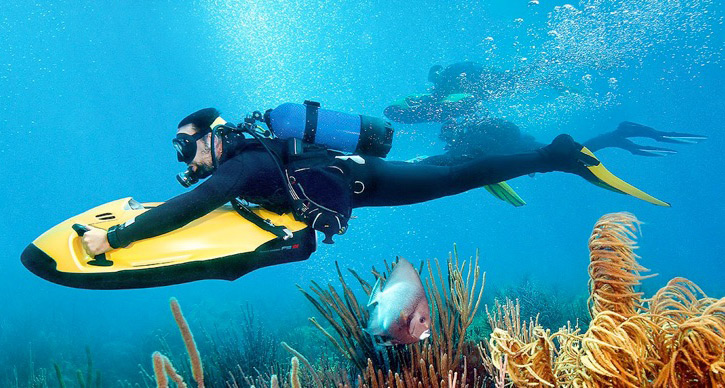 Quality right down to the last detail.
The SEABOB is the absolute paragon of cutting-edge technology. In order for the vehicle to live up to this claim, the drive unit was made using premium carbon elements, established ceramic coatings and precious metals resistant to salt water. Meticulously hand-crafted, this water sports vehicle is made of top-grade materials. The uncompromising quality standard is reflected in each and every detail.
The specially developed, high-performance electric-drive mechanism with its environmentally friendly technology is an exemplary innovation.
The motor is a high-torque synchronised drive unit featuring a microprocessor-controlled 3-phase sinus power management system. The application of cutting-edge technology enables this motor to achieve the ideal amount of torque with outstanding efficiency. All this, and yet the overall design remains very compact. The power for the drive mechanism is provided by highly efficient Lithium-Ion accumulators. These high-performance special accumulators are a top-class quality component in the propulsion concept of the SEABOB.