Become Captain for an unforgettable outing with family or friends aboard our BAYLINER E5 departing from Puerto Marina Benalmádena.
Discover the coastal coast between Malaga and Fuengirola. Go meet dolphins, enjoy delicious swims and the Andalusian sun.
Our very recent boat offers you a large, friendly and comfortable space, last generation equipment and everything you need for an unforgettable sea trip.
Our team will train you how to maneuver the boat and advise you on your destinations before departure. She will of course provide assistance throughout your cruise.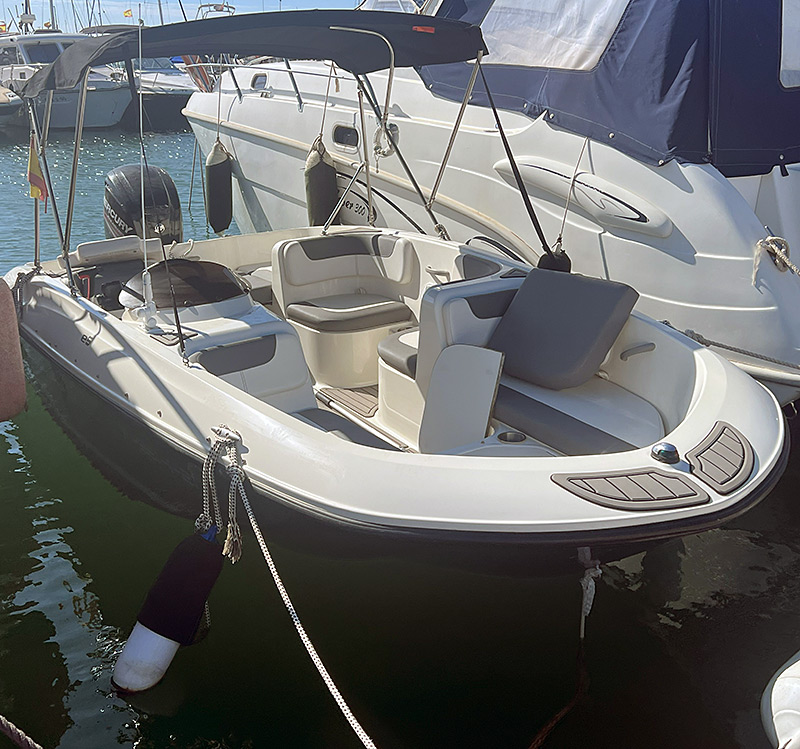 TIBURÓN
Our Boat without licence

TIBURÓN is a BAYLINER E5, a stable, reliable and recent marine boat.
This model was designed especially for leisure trips at sea. Its deck plan is simple and it is easy to move around thanks to a large central passage.
It offers two large sun loungers at the front and at the back, as well as two seats facing each other to enjoy a cold drink. Glass holders are present in all relaxation areas. Numerous storage boxes under the seats will accommodate all your belongings.
Access to the water is via two large platforms at the rear, equipped with a telescopic ladder.
A large coldbox housed under the rear deck will keep your drinks cool without hindering your movements on board.
The comfortable cockpit has all the necessary equipment, VHF radio and a large GPS screen for safe navigation.
The central space is protected by a large awning which will protect you from the sun.
Our boat is equipped with the latest SUZUKI 15CV, reliable and efficient which will allow you to become Captain of the boat without the need for a navigation license.
Tiburón has all the necessary safety equipment and can accommodate 5 people in total.


1 Hour : 80€
2 Hours : 130€
3 Hours : 170€
4 Hours : 200€
Leyre Iturralde
27/07/2021
Mi pareja y yo hemos estado esta tarde probando la diabla de surf eléctrica Carver y ha sido una experiencia súper divertida. Hemos quedado a las 18:00 en el puerto y de ahí hemos ido con la lancha hasta mar abierto. Ahí nos ha hecho una explicación rápida y hemos estado 20 minutos cada uno con la Carver. Yo en seguida le he pillado el punto y me he divertido mucho así que lo recomiendo al 100%. Además el dueño era majisimo y te hacia fotos y videos mientras estabamos subidos y después te las enviaba por whatsapp
Probamos la tabla eléctrica y aunq hay que pillarle el truco estuvo genial!! Muy recomendable! y además el monitor es encantador.
Álvaro Ruiz Cubero
24/07/2021
Cogimos la tabla de surf eléctrica Twin y nos lo pasamos en grande. Muy divertido y muy buen trato.
Hongen Shyu Barcel
15/06/2021
Muy divertido y muy amables lo recomiendo 100%!!
felipe rodriguez
05/06/2021
Experiencia espectacular. Muy recomendable ☺️
Tawfik Chtioui
05/06/2021
Un acierto de experiencia
Nous avons louer un surf électrique pour 20 minutes. C'était GÉNIAL. Une activité qui change des classiques sortis padel, pédalo et bateau. Très amusant et avec beaucoup de sensations. Le gérant nous amènent au large pour l'activité, donc une petite promenade en bateau en prime avec un super paysage. Je recommande à 100%
Yusef Csatornája
08/08/2020
I had an amazing time, its definitely worth its price. I tried the electric surf and the guy taught me very well, he is nice and friendly. I can honestly recommend it to everyone.
Genial